Get Well, Be Well, Stay Well Naturally!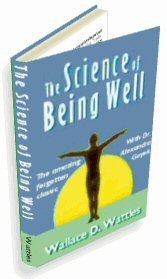 Reading this free ebook could improve not only your health, but everything else in your life!
"Health is the result of thinking and acting in a Certain Way, and ... every person can attain perfect health."

Wallace D. Wattles,
The Science of Being Well, Chapter 17


Download your FREE ebook today!
Already requested it, but it didn't show up in your email? Click here.
"When I began actually to practice what he teaches —even imperfectly — the results were immediate and dramatic.
After just one day ..."
... with a profoundly effective wellness system!
"You'll be astounded by his insights and clarity ..."

Click to learn more ...

Learn more ...

Learn more ...
Listen while you work or drive!

"This is a double whammy — a passionate book read by an equally passionate Dr. Alexandra Gayek. Her personal insights brought it home for me ..." — Paul Dillon, Javabean Productions
Get regular infusions of inspiration, practical tips, and amazing stories of others' successes with your free subscription. No filler, no fluff, always fresh!

Get MP3s ...

Click to learn more & subscribe free ...
---
Are you a fan of The Science of Getting Rich? Hear Dr. Gayek explain how The Science of Being Well can boost your finances as well as your health!
Get personal help &amp coaching from Dr. Gayek.

Join the global Q&A with like-minded people everywhere — and get all the newest announcements, too!

Hand-picked tools & more, all in harmony with SOBW.

Learn more ...

Get started now ...

See them here ...
---