Requested ebook but it didn't show up in your email? Click here!
Get your free ebook and your free ezine here!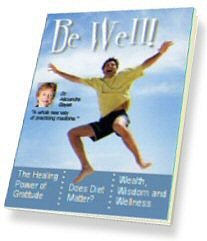 Is this you ... ?
You have the best of intentions ...


But you have a hard time sticking to any "health program" — whether it's about exercising, eating better, losing weight, slowing the aging process, or rebuilding health in your heart or immune system.

Or maybe you have a hard time putting yourself first ...


You'd stay up half the night for someone you love or for some cause you believe in, but rarely find the time to take care of yourself. [??? unless it would allow you to live to see your grandkids grow up or make some important contribution to the world.]

Maybe you have a very clear vision of success and want to take advantage of the very best tools to achieve a totally fabulous life...


And you already know that without a fit and healthy body you can't fully enjoy the wealth you are creating.

Or you may already have a high level of understanding and know that the universal principles for creating wealth are the same ones for creating health, happiness, peace — everything you could ever want.


And you'd love to learn more and enjoy the company and encouragement of others on the same path.
If you can relate to any of this, Be Well! is for you!
In each edition of this lively (and free!) monthly ezine, you'll find inspiration, encouragement, and right-to-the-point information — in the form of
True healing stories about people like you,
Simple tips to help you understand and implement Mr. Wattles' advice,
Reports from medical and scientific research that supports the principles of The Science of Being Well,
Mind-expanding questions for you to ponder,
Links to useful resources, and
Gifts like your Science of Being Well ebook, my Miracle Healing introductory audios, and so much more.
It's all FREE!
Plus, you'll also get "Between Issues Updates" with things to help you laugh and smile, MORE useful resources, up-to-the-minute announcements, and much, much more!

Just submit the form below (or the smaller one up on the left) to subscribe to Be Well! You'll receive a welcome message right away (complete with your download instructions for your SOBW ebook).
Of course you may unsubscribe at any time (although I know you won't want to!), and your email address is completely private and secure. You have my personal promise that it will never be sold, loaned, rented or abused in any way.

Be Well!




Dr. Alexandra Gayek